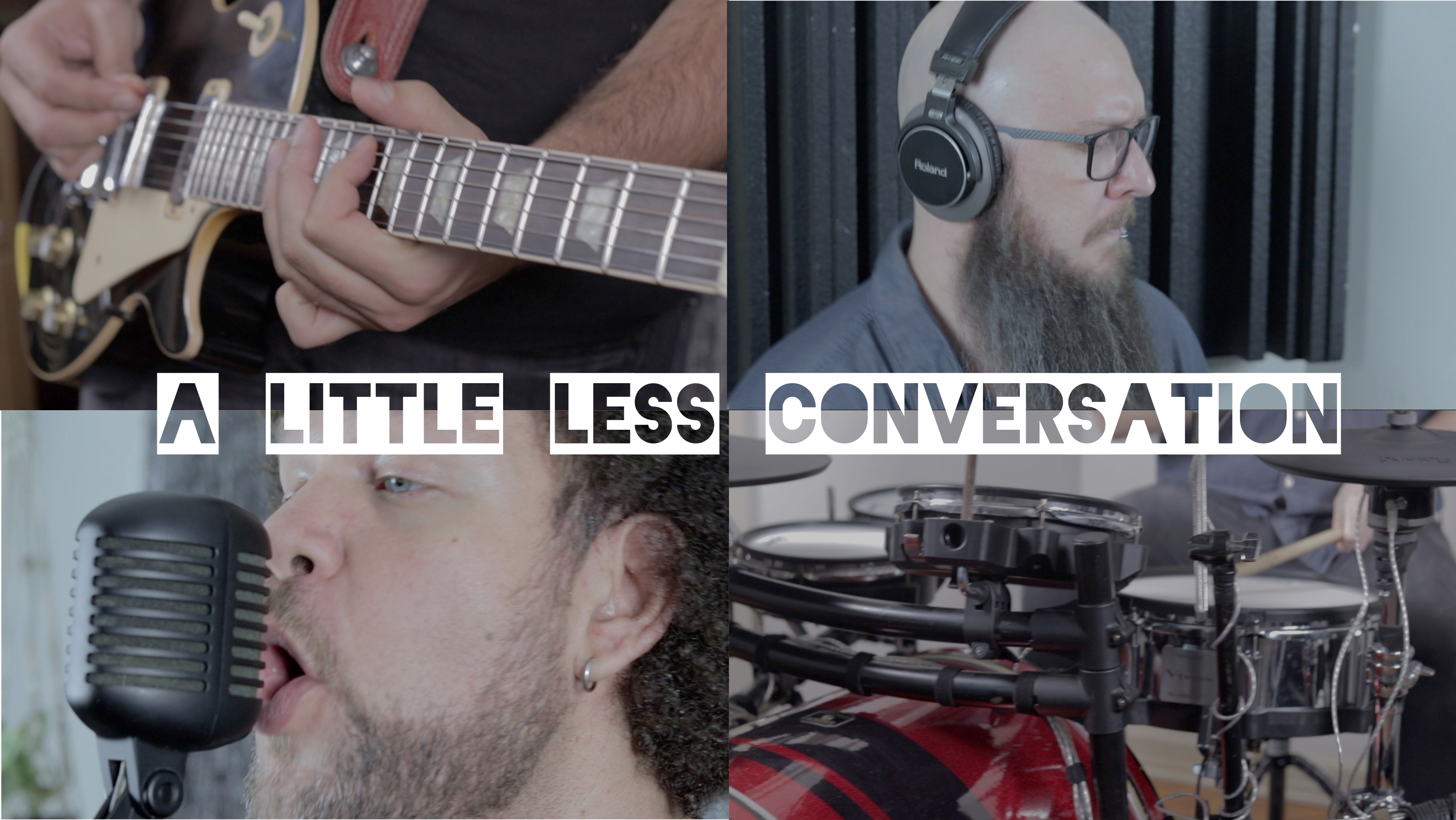 Hey RoshamFAM!
We're so excited for not one but TWO music videos we have this month! But before we get into it, we want to give a shout out to everyone who's joined us on Patreon! Patreon is a platform where we offer exclusive content for your support. On Patreon you can get early info on shows and upcoming projects, a shout out out every week, vote on our monthly cover music videos and get access to them 6 months before they release, as well as behind the scenes photos and even a monthly hang out with Kyle & J.
Special Thanks To: Christene W, Rachel E, Jeff C, Jimmy J, Sherry S, Andy K, Bill H, Phyllis F, Nadia M, Elvin B, Steve B, Nancy B & Renee T!
This Week Exclusively On Patreon!
We just finished our latest cover re-imagination of  "A Little Less Conversation" by Elvis Presley requested by our patron Jeff C. Jeff, you picked a good one! We're really excited how this one turned out!  Watch the trailer below a look for this song in June 2020 on YouTube.  However! If you're on Patreon you can watch it right now, along with about a dozen of our other unreleased music videos! We're getting ready to take requests for next month so be sure to join this week at patreon.com/roshambeaux so you can get your vote in!
Coming To YouTube Next Month!
Our Version of "Living in America" hits YouTube next week! This song was requested by our friend Steve B. This one was a lot of fun to learn, produce and shoot! Catch the trailer below and be sure to subscribe to our YouTube channel at youtube.com/roshambeaux so you can watch it as soon as it posts!
What's Up With Kyle...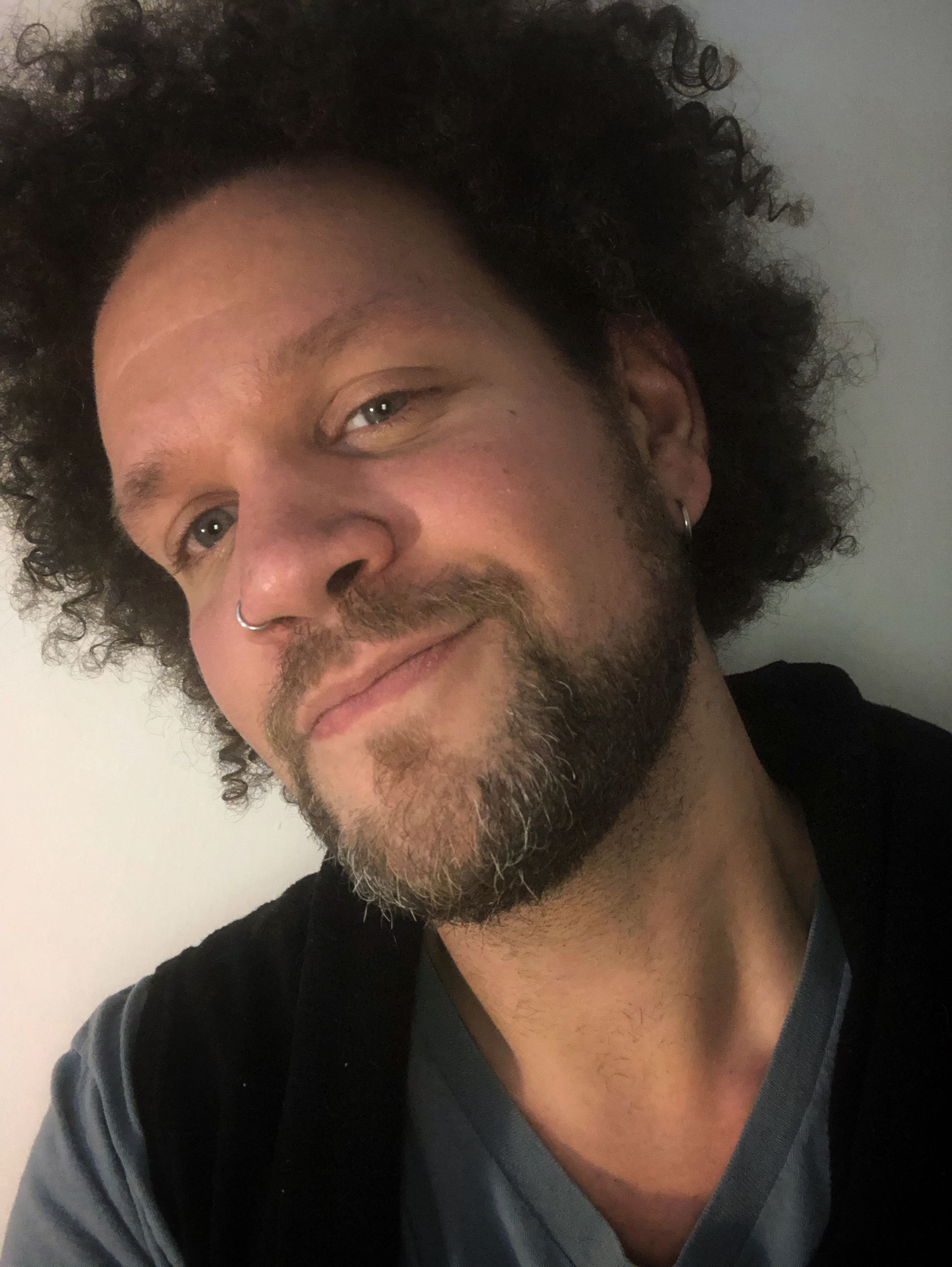 I really liked how this month's request cover turned out on Patreon. We're about to take requests for the next one and I'm itching to get a head start on it. It's been great getting to work on a new challenge every month. I'm totally ready for the next one! Recording music reminds me of being a kid. I ruined SO many tapes because it was such a rush hitting the little green circle button that said "record" and seeing what sounds I could capture. Recording has come a long way since but I still get that nervous rush every time I hit the button (it's red now).
This week I'm working on booking shows. It's funny saying that now, because for most of my adult life, that was just a normal week. It's easy to take things for granted when they become repetitive. I'm grateful to have a few dates on the books and can't wait to add more. We have a few shows coming up this month that you can check out at roshambeauxmusic.com/tour-dates . Let me know where we should go. This year feels a lot like starting over. That notion always seemed so daunting to me but anytime something feels like that I remind myself to say "I get to" instead of "I have to," and getting  the opportunity to start over sounds amazing. I hope you can find your version of that. It's good.
-Kyle
What's Up With J...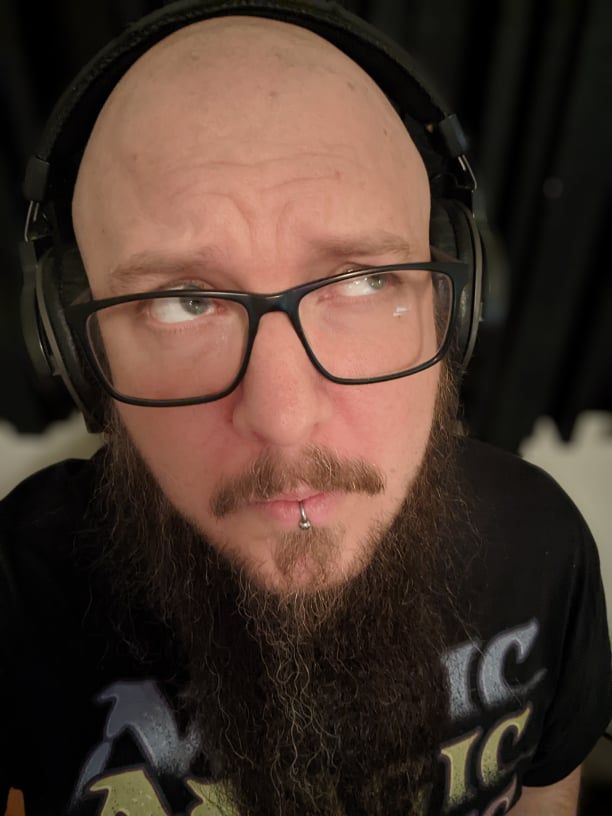 This week I've been working on editing drum sounds for the live rig. Working through each song and dialing in the drums just right. I'm excited with what I've been able to do so far. The module I use, the TD-50X, is so extensive with the options it gives you. It allows me to perfectly dial in custom sounds and have something in the end unique to me. I remember day dreaming, when I was younger, about maybe one day owning one of these higher end modules and honestly never thought it was possible. But here I am tweaking on this thing with endless possibilities and I feel nothing but gratitude. I am so lucky to be able to do what I do. What a beautiful ride and it's not even over yet. I can't wait to let you guys hear and feel these new sounds. It's important not to give up your dreams. They are there for a reason. An inner voice guiding you to purpose. A slice of this existence your spirit yerns to experience. Even if at times it may seem impossible. You'll find your way. As always, to anyone who reads this....I love you very much. -J
Tune In This Thursday!
Every Thursday, we do a live podcast on YouTube called "Van Philosophy" about our perspective on various topics. This week tune in for Episode 29: Recording. We do our podcasts live and free form. That way we can hear what you have to say about this week's topic and talk to you live. Don't be shy! Tune in and hit us up in the comments. It's so much better when you do! Otherwise it's just two musician's talking!
Our New Album Existential Threat is Hitting Spotify This Month!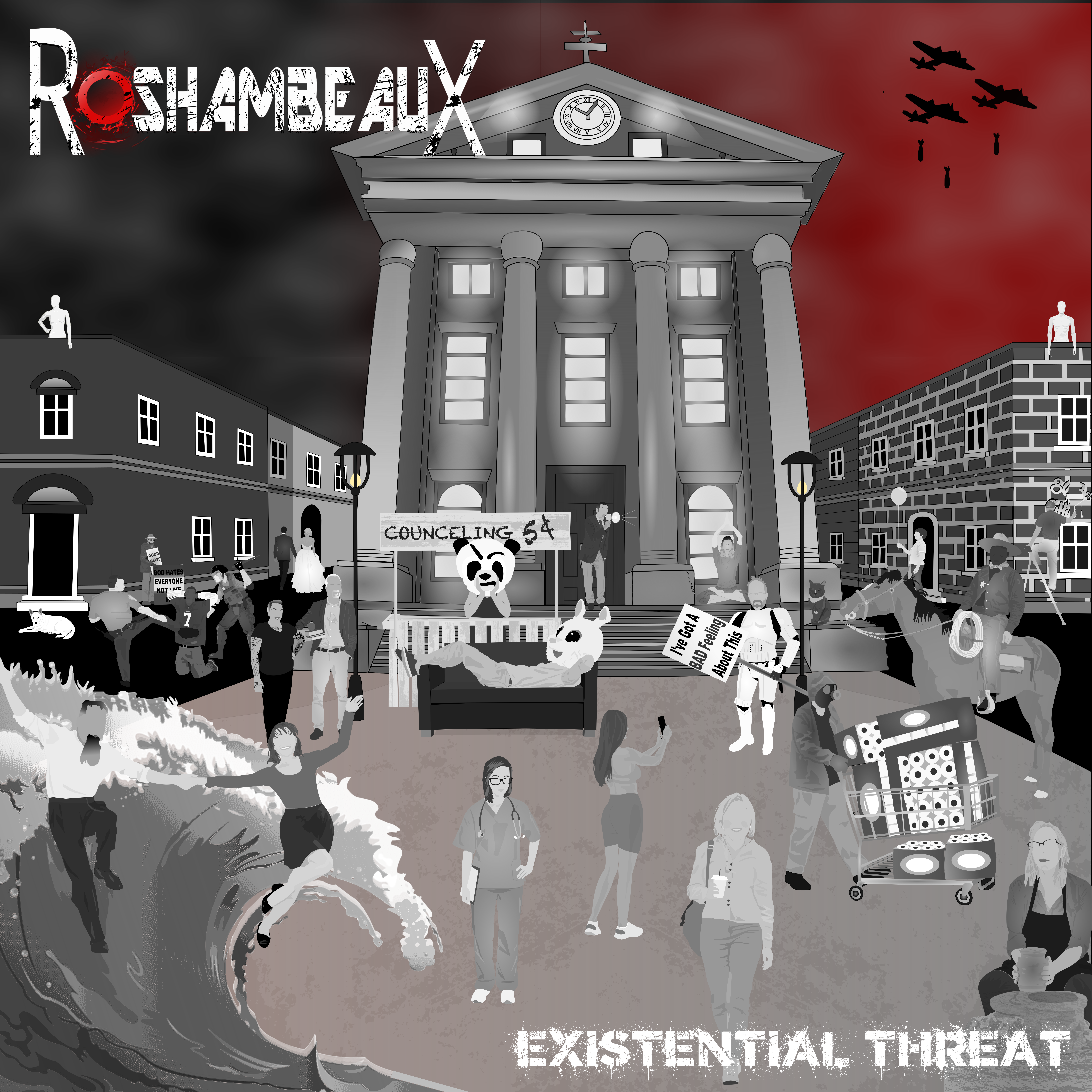 Pre-save now by following us at: https://open.spotify.com/artist/0I8EYkvXECMXLMPDpjK9s8 and rock out to our new album "Existential Threat" on January 18th 2022. Existential Threat is a collection of songs for people that see into the future, have dealt with anxiety and have overcome, made it out of an oppressive religion, tell black stories, struggle with having a positive self image, see that life is worth fighting for, believe in strong women, stand against various government industrial complexes, are mending their own broken hearts and realize that we die... and stuff.
Order the hard copy at roshambeauxmusic.com/existential-threat
Official Roshambeaux Apparel!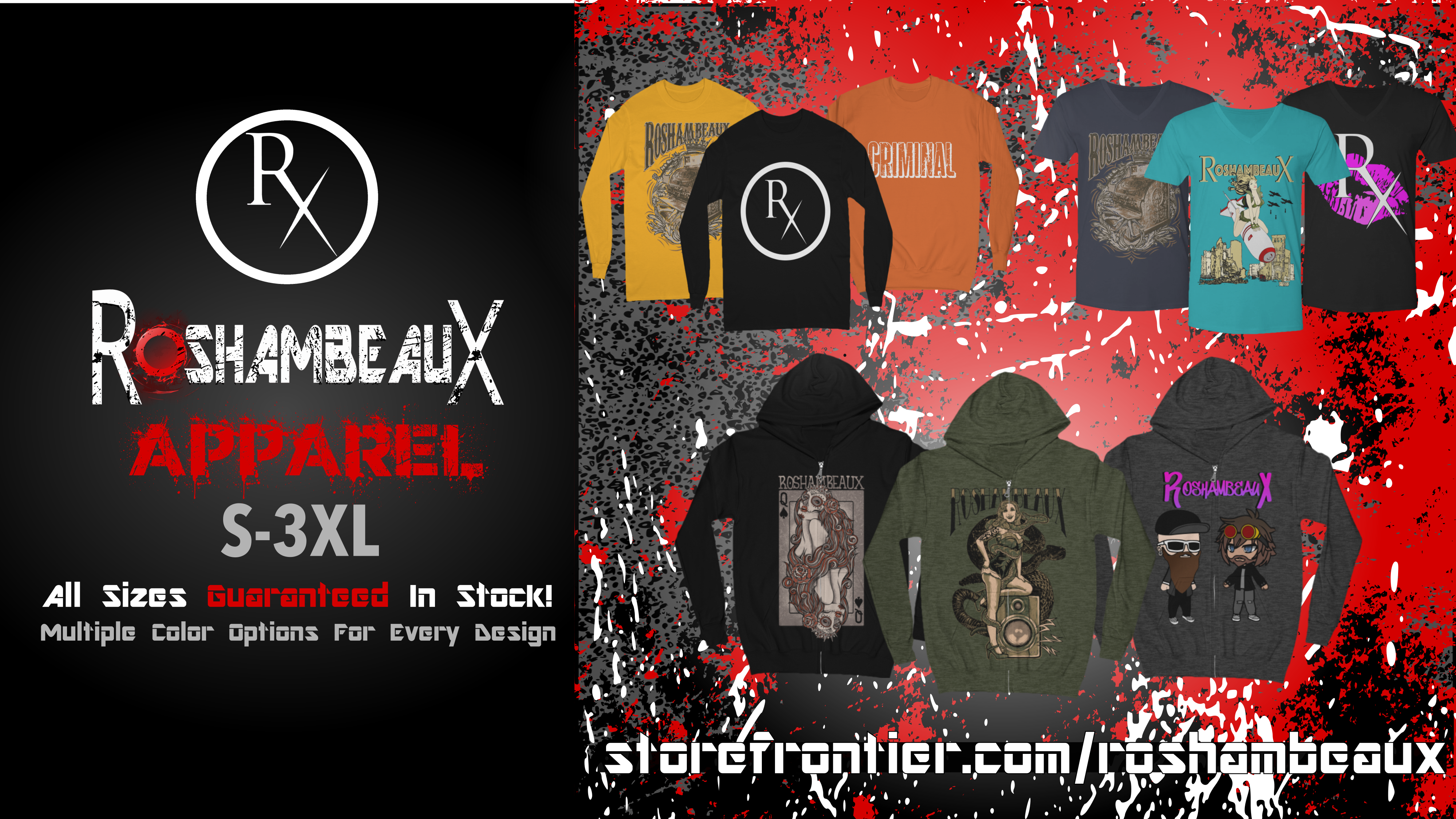 Go to storefrontier.com/roshambeaux and browse an ever growing collection of designs and colors inspired by our music. Get some new swag and support your favorite rocktronic duo!
Need To Talk?
If you ever need to get a hold of us about merch, booking a show, questions about something you've seen or just want to chat, you can message us HERE. It goes straight to our phones.
See you soon!
Kyle & J